Shopping Basket
Your Basket is Empty
There was an error with PayPal
Click here to try again
Thank you for your business!
You should receive an order confirmation from Paypal shortly.
Exit Shopping Basket
| | |
| --- | --- |
| Posted on 31 March, 2015 at 6:45 | |
Today will forever be known as the day that would determine whether all of the hard work that I had been putting in to creating a new pedagogical environment would be a viable teaching and learning environment for Rooty Hill High School.
The new era of learning that commenced today incorporated the use of virtual learning environments, specifically Minecraft. My Mini ME's (Mini Microsoft Experts) and I have been working this year on learning how to create educational challenges in Mineclass (for more information, please go to www.mineclass.org) and learning how to transfer this knowledge to creating a server for use within our own school as well as applying this to our new Minecraft Edu server. With the help of our technology staff and our Technology Support Officer (TSO), this was all possible. The process of how Minecraft Edu came alive has been documented and can found at https://sites.google.com/site/minecraftrhhs/ (Mineclass is a Transformation Project initiated between Microsoft and 5 Australian and New Zealand schools).
My pedagogical approach in the space of technology is that a blended learning is the best fit model that supports the learning of all students regardless of background or ability level. This is particularly important for those 'mixed' classes where students of various abilities are grouped in the one classroom environment. Today was no different to my approach of introducing students to Minecraft educationally.
Students in Year 9 whom are currently studying Information Systems and Technology (IST) are currently completing Project Based Learning that focuses on the creation of a Robotic Guide Dog. This robot can be targeted at any demographic with any disability (at the student groups discretion). Todays incursion was aimed at providing these students with new resources (primarily Minecraft) that they could use to complete their projects this year.
At 8.45am, students met me at the Canteen steps. The fact that we were on an 'incursion' and not an 'excursion' contributed to the negative feelings that students already possessed. I was already facing a battle and I hadn't even said 'hello' to them yet. I gave each student a contract and explained its contents. Students were given the option to sign the contract and participate in the day. If they decided that they didn't want to abide by the rules, they could simply go to the office and ask for their parents to be contacted and have them collected from school. I left the students at the Canteen and walked to my classroom hoping that all would soon follow. Fortunately, every student signed the contract and entered the classroom. Upon their entry to the classroom, their contracts were taped to the whiteboard. I too signed a contract and this was also added to the wall of contracts.
The activities of the day was delivered via a Sway that I created (and can be accessed at https://sway.com/J_kVxq3SBUa6qwBj ) Students have never seen a Sway before, so this was a great way to get them engaged quickly. We began the day by watching a series of animations created on Go Animate and YouTube clip on Robotic Guide Dogs followed by a discussion and a Think Tank on what the key features and the implications could be when designing a Robotic Guide Dog. Students were then encouraged to photograph their work as evidence.
This activity was then followed by a game of Kahoot.it. This a great activity that encouraged students to re-evaluate their initial thoughts about the Robotic Guide Dog and prompted more great conversation about what attributes their robot should contain.
After our first break, each student created a Google Site. Each site contained 6 pages namely; Home page, Do Now activity, Diary entries, Multimedia Project, Promotional Activity and Minecraft. Each page would be filled with information and/or photographs from throughout the day. We then completed a literature review of articles of robots and the use of robotics for personal and business purposes. This review was added to our Diary page (on our google site).
Once the formalities were completed, it was time to begin playing on Minecraft Edu. Students were required to demonstrate their technical abilities of installing the software and launching it. For many students, this was the first opportunity that they had to do such a task. For these students, this task alone was an absolute milestone.
As students were installing Minecraft Edu, I ascertained which students considered themselves as 'Jedi's' (experts in the area of Minecraft) and those as 'Newbies' (have never played on Minecraft before) and allocated a worksheet that would support their level of play. Many other resources such as recipe cards, how to maneuver within Minecraft etc were dispersed to students. At first students felt a little overwhelmed by all of the material, but it was quickly dispelled once they started playing. Within minutes, the atmosphere within the classroom changed. There was no longer a sense of competition between students as to whom had produced the best website and there was no longer a challenge of who knew more. They were working together. As equals. Moreover, even when it was time for students to go on a break (when the bell went), nobody moved. I genuinely don't think that they even heard the bell. Students continue to build and play and help each other in the Minecraft Edu space for the next 90 minutes. All conversations that I overheard was directly related to the task at hand and every know and then I could hear cheers and squeals of elevation, particularly from those female students who were initially dubious of playing. They were so proud of themselves that they could not only fly, but they were building things. Structures. Structures that were relevant and could be used in their set of creating robotic guide dogs.
Throughout the play portion of the day, students were encouraged to communicate with members of their team about the requirements needed to support their project, document their actions in their Google Site diary, take screenshots (or use F2) and even download Snag It and use it to record themselves (which in some instances was also uploaded to their Google Sites). These activities enabled students to make the necessary connections with the content that was learned this term and the new activities experienced today.
The hardest part of today was asking students to pack up as it was time to go home. Asking all students to uninstall the software (again, students have not completed this task before), review their websites, discuss the future direction of their projects was a really inspiring activity as the growth of students technologically was clearly evident. Many had learned and experienced so many new things in just one day whereas others were able to share their expertise that they may have not normally been able to do.
Today is certainly a milestone for myself and for Rooty Hill High School and the start of our pedagogical outlook and new club - Minecraft 4 Me (named after our ICT4Me BYOD program)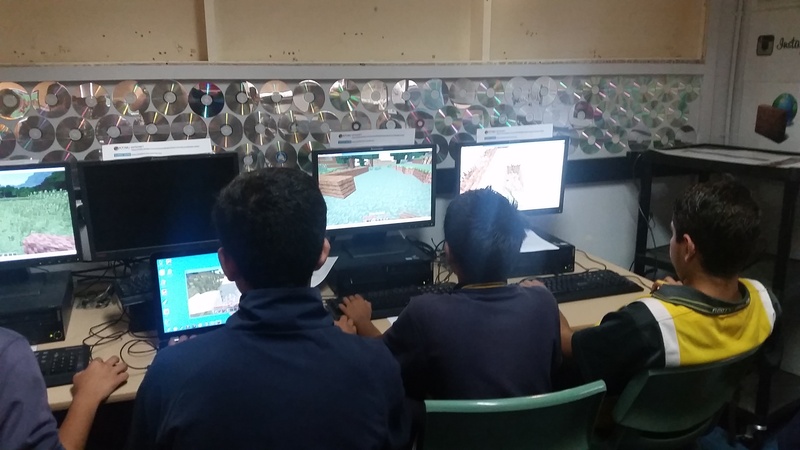 /