| | |
| --- | --- |
| Posted on January 25, 2013 at 5:50 AM | |
Wikis are websites that permit its users to add, modify, or delete its content via a web browser usually using a simplified markup language or a rich-text editor. Most are created collaboratively.
Wikis may serve many different purposes, such as knowledge management and notetaking. Wikis can be community websites and intranets, for example. Some permit control over different functions (levels of access). For example, editing rights may permit changing, adding or removing material. Others may permit access without enforcing access control. Other rules may also be imposed for organising content.
The most popular wiki is Wikipedia. Wiki Wars are now becoming a popular game where individuals play and compete against each other. There are a many YouTube clips on this 'competition' and you can see the seriousness assocaited with this from the clip below....
List of Wikis
This is a great site which lists all of the best wikis that we as educators can use: http://c2.com/cgi/wiki?TopTenWikiEngines
I am yet to determine which are accessible via the DEC, however, if your school doesnt have programs such as Blog Ed or Moodle, I recommend that you use a wiki.
Edmodo (www.edmodo.com) is perhaps the most popular and best wiki that educators can use for a number of reasons. The main reason being that a teacher has complete control over who is able to access the information and can control all information that is posted. It is extremely simple for teachers to create and post classwork and permits teachers to ask students to upload their homework/assessment tasks to be graded.
How my wikis supported students
Wikis dont need to be on a large scale or need to support students in a whole school capacity.
This particular wiki which was created on PB Works was designed to assist students, their parents and their employers in understanding their role in the new school initiative that targeted at-risk students who were unikely in completing their secondary education.
Our school uses Moodle and Blog Ed quite heavily, however, one must have a DET/DEC account to access this information. PB Works was created to permit a safe learning environment for our students whilst providing access to key individuals (Parents and Employers) of their role in the program, access to essential information and an additional way to communicate to the school. This wiki proved to be of huge success and is still being implemented today.
Within the classroom, I use Wikispaces. This permits students to search for information with parameters whilst maintaining the freedom to extend themselves. This collaborative learning environment also enables students to explore their topic/issue without teacher intervention thus giving them ownership and power in the classroom.
Great Wikis
Call of Duty has a great wiki that I know my students use. This wiki provides hints, discussions and much more to die-hard fans! (http://callofduty.wikia.com/wiki/Call_of_Duty_Wiki)
Babylon is an interactive tool that provides its users you with a dictionary and additional information on words found. It is currently rated as the number 2 wiki in the world (www.babylon.com)
BBC Online is rated as the 8th best wiki in the world as it functions as purely as a multiple purpose communication site (bbc.co.uk)
Wikispaces is a site that has DET/DEC access permissions by teachers and students to use in the classroom. There are many pages on here by the DEC (www.wikispaces.com)
| | |
| --- | --- |
| Posted on January 25, 2013 at 5:45 AM | |
Preparing for a new school year is never easy. Many teachers, including myself are found at this time of the school holidays, finalising or modifying curricular programs, trying to embed all of those technologies from all those professional learning sessions that we attended last year as well as trying to stay excited that the new term is around the corner.
In my preparation, I have created Moodle accounts for all of my (new) students and have created a pre-test for year 7 IST (Information Software and Technology). This pre-test is an online capabilities test that incorporates the General Capabilities from the National Curriculum as well as the Digital Citizenship standards from the NSW Board of Studies (BOS). My faculty had planned on doing a pre-test and post-test last year, but due to time limitations, it just didn't eventuate.
I have also updated my wiki that I use periodically throughout the year with my Stage 4 students. This has actually been a rather simplistic task thanks to Diigo....I have been updating Diigo throughout last year and now have an extraordinary collection of tools that I can use. By simply categorising them (thank you to PLANE for opening my eyes to this art form), I have simply been able to create pages and copy and paste links and add few descriptions when required. Without realising, my wiki (wikispaces) was created within an hour and contains a sufficient amount of links and data.
My day book is now full of all of the ideas that I want to use this year and I have even gone to the effort of contacting it with shiny contact in an effort for my day book to still be as motivating in term 3 of this year (as it is motivating me now). I am keen on running many student committees to complete whole school activities such as assist with Facebook, the School App, our YouTube Channel and much more. We also have some students who are serious gamers, so I am working together with the Executive Staff at my school to create a 'gaming club' for thse students to have an outlet at school where they can shine.
| | |
| --- | --- |
| Posted on January 25, 2013 at 12:35 AM | |
On January 23rd, I participated in delivering a session on how to execute Digital Citizenship via PLANE's Teachmeet session. The Key issues that I raised included that of:
Social Networking Sites
Etiquette
Searching Techniques
Digital Footprint
In each of these areas, I discussed the importance of ensuring that students are being taught how to use Computers, the Internet and BYODs in a safe setting and rather than preventing them from using such technologies with strict boundaries, educating students how to use these technologies correctly with endless boundaries.
Key websites that I use include the DET's Digital Citizenship website: http/www.digitalcitizenship.nsw.edu.au/ and a site on informing students how to search correctly: http/lib.nmsu.edu/instruction/eval.html
Educating students life long skills is the key to success. I also discussed that such skills are relevant in all curricular activities and should not be specific or taught solely in ICT subjects. Schools should really be working together to ensure that their students can transfer information between subjects.
I also discussed a movement called the String Movement - http/www.thestringmovement.com/ which combats bullying and cyberbullying. This is a huge initiative in our school and is something that we all take great pride in.
My school has a great Facebook page (which I have been solely managing), and this year we will have a student committee who will assist me in running our page and adding content and photographs to the page to build our 'social media' reputation and to re-emphasise proper use of such technologies.
For more information about my discussion, please go to twitter and look at the twitter feed at #tmplane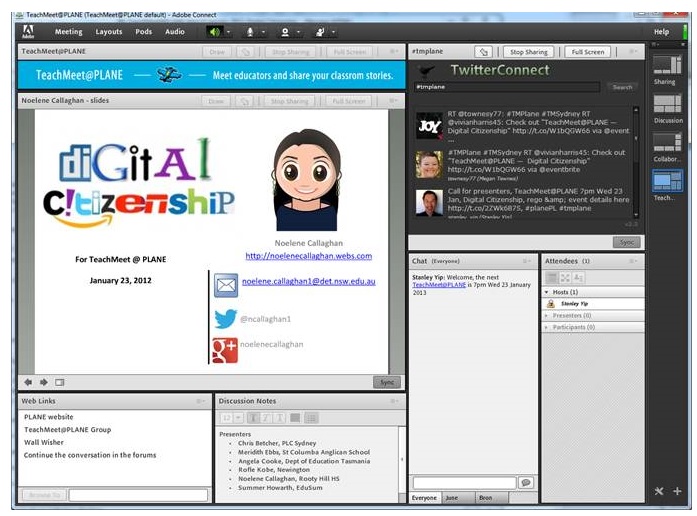 Additional resources that you can use include:
| | |
| --- | --- |
| Posted on January 23, 2013 at 3:20 AM | |
[email protected] — Digital Citizenship
PLANE
Wednesday, 23 January 2013 from 7:00 PM to 8:30 PM (EST)
Our 11th virtual TeachMeet to explore hot topics in ICTs in education.
As per usual the event will be in Adobe Connect.
This months theme is Digital Citizenship.
There is a limit of 80 registrations for this event.
Event Location: Online http://connect.plane.edu.au/teachmeet
Requirements: You, a computer, the internet, and speaker or a headset with microphone.
Presenters:
Chris Betcher, PLC Sydney
Meridith Ebbs, St Columba Anglican School
Rofle Kolbe, Newington College
Angela Cooke, Dept of Education Tasmania
Noelene Callaghan, Rooty Hill HS
Summer Howarth, EduSum
Background:
[email protected] continues the lead of successful face-to-face TeachMeets into the online space, giving access to high quality meetups and sharing of knowledge, by connecting K-12 educators from all over NSW with each other.
TeachMeets will take place each month on or about the third Wednesday starting at 7pm (AEST) time (60-90 minutes) and will involve educators coming together in PLANE via AdobeConnect and/or the virtual world OpenSim spaces.
Each [email protected] will focus on a different theme and involve volunteer educators hosting a short informal conversation, presentation, or sharing of their practice.
Twitter hashtags: #tmplane and #planePL
| | |
| --- | --- |
| Posted on January 19, 2013 at 6:25 AM | |
Creating a digital foot print is becoming significantly important for many individuals. It is certainly dependent upon occupation and interest groups, however, more and more individuals are adopting the need to have a personalised learning network.
Socially, many individuals possess accounts on Facebook, twitter, Instagram, YouTube and so forth. Professionally, individuals seek LinkedIn, twitter and Blogs. A PLN permits individuals to have a voice online. This voice provides them the opportunity to share their experiences, their findings atheories success and failures with community members off similar interest.
Like my personal work ethic, my digital ethic is to keep my professional and personal PLNs separate. Thus, professionally, I have developed PLNs that are education specific and are aimed to inform other teachers with an insight of my teaching experiences and research that I have found that is meaningful and relevant to todays pedagogical practices.
Professional PLNs thacloudscape include my blog, twitter, linkedin and PLANE.
Within my school, I use Moodle and the schools Facebook to communicate with my students. I have also used Edmodo, wikispaces and twitter to support particular learning activities. This is extremely important as I am able to connect with my students outside class time and provide them with sufficient support at their pace.
Personally, I use FourSquare and Pinterest to communicate with friends.
Collectively, these PLNs provide me with opportunities to communicate, engage and connect with others and to create new connections with students and colleagues in my school.
Power of PLNs
PLNs are networks that have no barrier to entry. They cross teaching sector and geographical divides and age is not an issue. All it takes is a commitment to engage and a willingness to share what you know.
Now, maybe more than ever, our profession needs to respond to change. As we sit on the cusp of the introduction of the Australian Curriculum, we need to find ways to make true what the documentation asks of us;
'The commitment to develop a national curriculum reflects a willingness to work together, across geographical and school-sector boundaries, to provide a world-class education for all young Australians.'
'Working nationally makes it possible to harness collective expertise an effort in the pursuit of this common goal. It also offers the potential of economies of scale and a substantial reduction in the duplication of time, effort and resources.'
Significance of PLNs
PLNs provide individuals with learning and access to leaders and experts around the world bringing together communities, resources and information impossible to access solely from within school walls.
It opens boundaries and creates a flat world where all individuals as leathers have equal access to information
The Power of PLNs
Google is revolutionising the education domain. 2013 will see a different type of PLN used by teachers and their students. Google Drive, Google + and Google Apps will enable us all to create a personal learninnetwwork that facilitates collaboration and learning a virtual context in real time. This area will certainly change and we will see many of Googles products replace the 'traditional' products of Facebook, Skype and others.
| | |
| --- | --- |
| Posted on January 19, 2013 at 6:20 AM | |
Being able to support other teachers is fundamental to the success of our schools and our students. Through peer coaching, we can strengthen whole school initiatives and retain valuable information and resources.
Why would additional preparation in the these 3 pillars of coaching make you more effective in helping colleagues become innovative educators?
Management Skills
People Skills
Negotiation Skills
Committment the Learning of Others
Committment to ongoing Professional Learning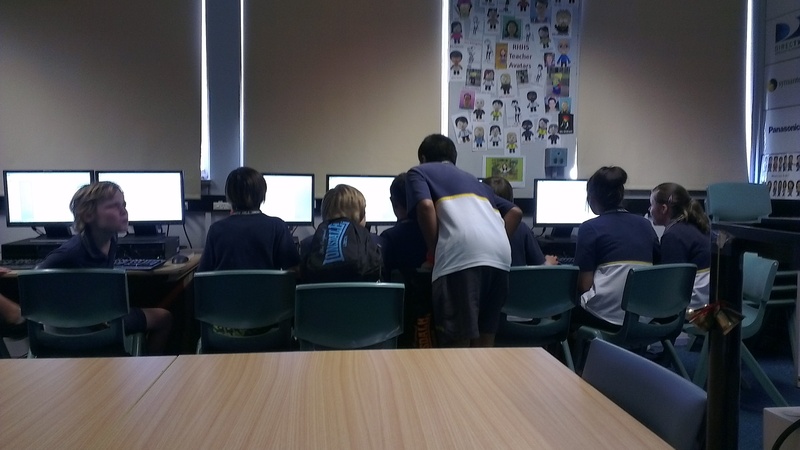 I believe that School Leaders are beginning to recognise the need for peer coaching to take place in schools. This is certainly recognised by schools now holding Staff Professional Development Days where teachers are coaching other staff as opposed to the traditional methods of only the School Principal and Deputy Principals running each session.
I think that it is not yet perfect and some teachers, for various reasons, are still overlooked, however, I believe that change is in place and great things will emerge for new teachers in the next few years.
| | |
| --- | --- |
| Posted on January 19, 2013 at 6:15 AM | |
I use a few resources to show video in the classroom. The main sources I use are:
YouTube (www.youtube.com),
TeacherTube (www.teachertube.com) and,
Clickview (subscription based).
They all have an extensive collection of videos that are suitable to support learning of any content.
More recently, I have encouraged (older) students to create short vids on particular topics and show these to the class. These vids only go for 3-5 mins but each group have particular area that they are to research and students get quite excited (and serious) about creating a learning resource for the class.
There are many programs that you can use to create a video within the class.
The most popular are:
Adobe Premier
Movie Maker
Adobe Captivate
Flash
imovie
I am currently in the process of having students trial tablets to create their vids (taking photos and videos as well as using apps to edit them).
Apps that we are trialling include:
imovie
reeldirector
movieslate
sim on a stick
screenplay
I will document their progress soon.
As we modify our lessons/worksheets to accommodate the different learning styles of students, we also need to consider altering how our students watch and interpret a movie.
There are students that are not able to watch a movie on the white board via a projector. Some students require to watch the video independently on their own PC whilst using headphones to listen to it. This provides the student with a sense of control of their own learning and the ability to pause or rewind the movie if required. This is most suitable for students with ESL background and those with learning difficulties. Using this technique is also recommended for GAT students as it provides them the opportunity to extend on their learning and watch additional videos that are more comprehensive and contain more information.
| | |
| --- | --- |
| Posted on January 19, 2013 at 6:10 AM | |
Augmented reality (AR) is a live, direct or indirect, view of a physical, real-world environment whose elements are augmented by computer-generated sensory input such as sound, video, graphics or GPS data. It is related to a more general concept called mediated reality, in which a view of reality is modified (possibly even diminished rather than augmented) by a computer. As a result, the technology functions by enhancing one's current perception of reality.
AR has played a significant role in my class. Although many of the AR concepts that are used is not directly related to content (eg, Heart Cam and AR XMas), AR has certainly increased the knowledge of students in terms of understanding the complexities of technology and how one can learn from technologies. As many students do not own android or iphone devices, this presented as a great opportunity for them to learn how to access a play store or google play and download the appropriate app. Overall students have demonstrated to be more engaged and more willing to collaborate in groups.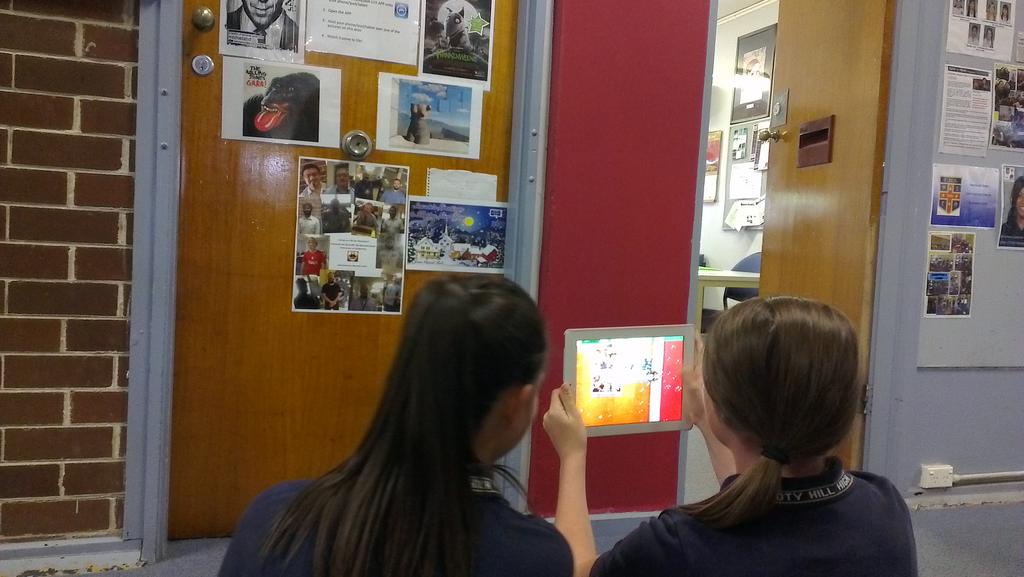 The ICT Faculty at my school is slowly increasing the number of ipads it has for students to use. In an attempt to test these ipads and to familiarise students with the ipads and their functionality, AR has been used as a means for students to learn about this technological device. Aurasma Lite, Heart CamLive Butterflys, Dragons and AR XMas have been the most commonly used.
In November, Moostache Booth was used to promote Movember amongst the male teachers and students of the school.
AR can be used in the classroom to further engage and motivate students. Additionally AR permist students explore concepts in a new virtual world. AR allows students to take control and ownership of their own learning and explore issues that they may not have been able to do previously.
AR will certainly have a future in my classroom. I will use AR to create topics of work and intend in attending professional learning sessions of how I can create my own AR for my students. Due to the SES of the school, I will certainly use AR as an introduction to ipad and android devices and encourage students to use it as part of their assessment tasks. Additionally, AR will feature as part of our 21st century learning matrix and be exposed to more and more students each year.
| | |
| --- | --- |
| Posted on January 19, 2013 at 5:30 AM | |
I have spent the last 2 days at the Google App Sydney Summit and have listened to many experts discuss the latest technological innovations that are available to educators and their students. I must admit, initially I was very resistant and really didn't see the point to leaving all of the apps that I already use to using a Google version instead. Then, I attended a session that was presented by a TEACHER and finally my needs were met. A teacher was was able to show us how to technology provided by Google in Department and Catholic departments that is compliant with our networks and privacy settings. The sessions became seriously increasingly and inspiringly better with more and more innovative ways shown to us regarding how to develop innovative pedagogues in our classroom.
Here are a bank of a few resources that I am keen to implement in the classroom;
Google hangouts
Google docs
Cloud
Blabberize
Schoology
Learnboost
Bibme
Photopeach
Education Skype
Google Alert
Auomatic google email with filters
I believe that 2013, with Googles help and compliance from the NSW DEC (in that nothing will be blocked for teachers or students), will be a great teaching and learning year!
For more info on the Google Apps Summit, check out all the tweets via #gafesummit